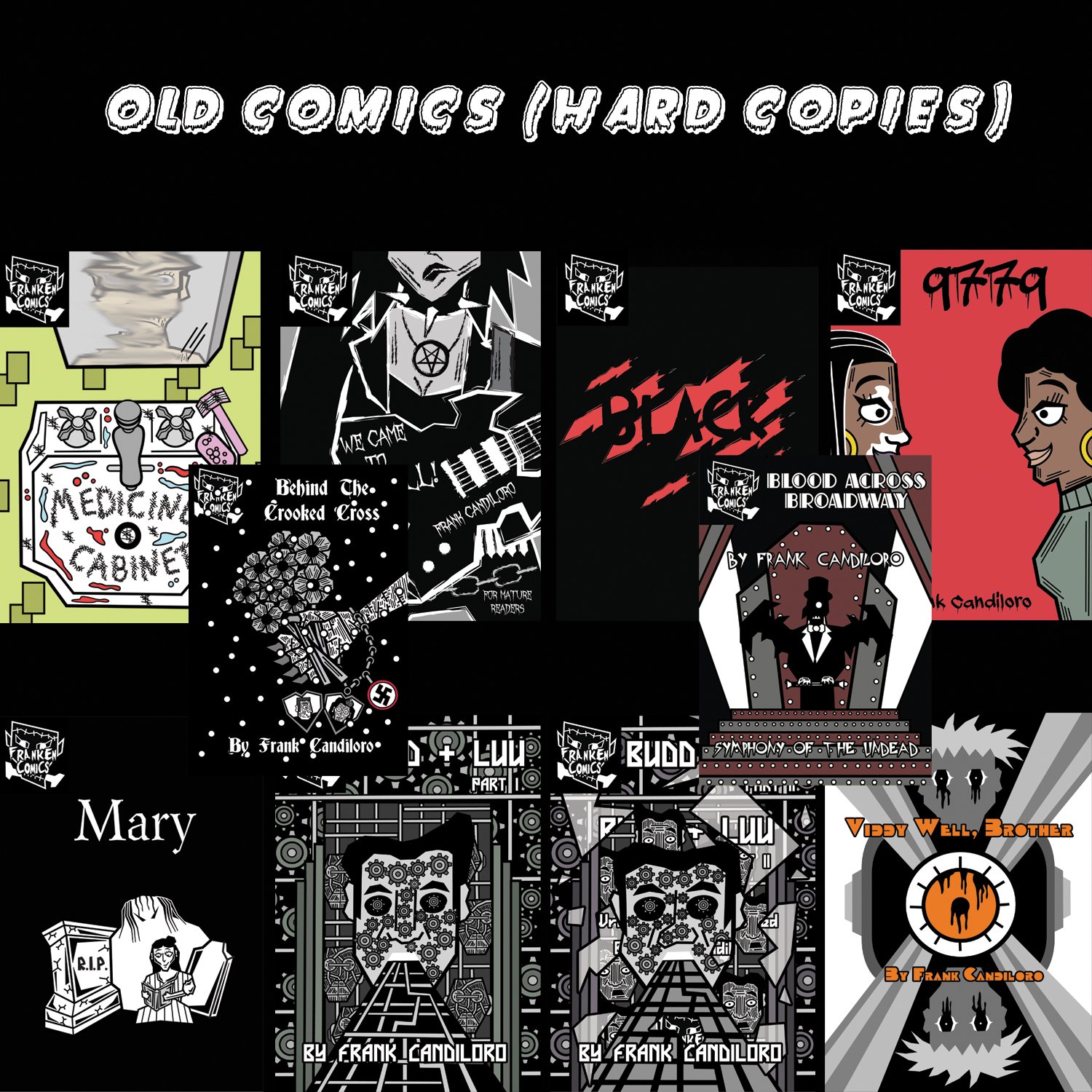 Old comics! (hard copies)
Some FrankenClassics for you! These are some of the previous comics that Frank Candiloro has published, from 2011 - 2016. All comics are A5 size (with the exception of Medicine Cabinet which is A6). To choose a comic, select one from the drop-down menu at the right of the screen.
FREE SHIPPING WITHIN AUSTRALIA.
More information on the comics:
"Medicine Cabinet" - Nominated for Best Comic in the 2017 Ledger Awards. What makes up gender? How do you properly express it? Is there a universal mode of expression that is associated with every gender? This comic aims to explore that. Full colour, A6, 20 pages.
"We Came To Kill" - Join Emily, writer of Metal Health magazine, as they interview the four members of Hateful Witch - Lucretia (Bass), Melissa (Drums), Kaminari (Guitar) and Iwa (Vocals) as they reminisce about starting as a glam metal band in 1980s L.A., before moving to San Francisco to make a new start in the thrash metal scene there. Black and white, 55 pages.
"Black" - A dark journey into the abyss of the unknown, you'll struggle to make sense of all the darkness. Full colour, 10 pages.
"9779" - Nominated for Best Comic at the 2016 Ledger Awards. The lives of an African American woman in the 70s and her daughter in the 90s are juxtaposed against each other, their downfalls pitted against their successes. Full colour, 10 pages.
"Mary" - Mary is a young girl who has seen her share of tragedy and misfortune. Indeed, Death has followed her since the day she was born, lurking just around the corner. In response, she channels her energy into her main passion: writing. Black and white, 7 pages.
"Budd & Luu - Parts I and II" -Budd & Luu are a lovable comedic duo who get into all sorts of random and crazy adventures. When some mysterious force starts to erase their world the pair escape through a strange portal, which lands them in a high-tech asylum located in an alternate dimension. Black and white, 40 pages each.
"Viddy Well, Brother" - Set in the relatively distant future, the story entails the horrible misdeeds done to young Malcolm, a 10 year old obsessed with one of the most controversial films of the 1970s. Black and white, 30 pages.
"Behind The Crooked Cross" - Behind The Crooked Cross is a 55 page comic set in Poland, around the time of World War II. After witnessing a bomb explosion, Polish Artist Matylda's eyesight is severely damaged, and soon begins to see a distorted version of the horror that surrounds her, as well as a mysterious being that she knows all too well. Black and white, 55 pages.
"Blood Across Broadway" - Set in the Golden Age of Hollywood and Theatre, the story features an old, crippled vampire known as Morlook, who fosters a tremendous love of jazz, theatre and dancing, much to the disapproval of his overbearing son Cartorius. Black and white, 70 pages.