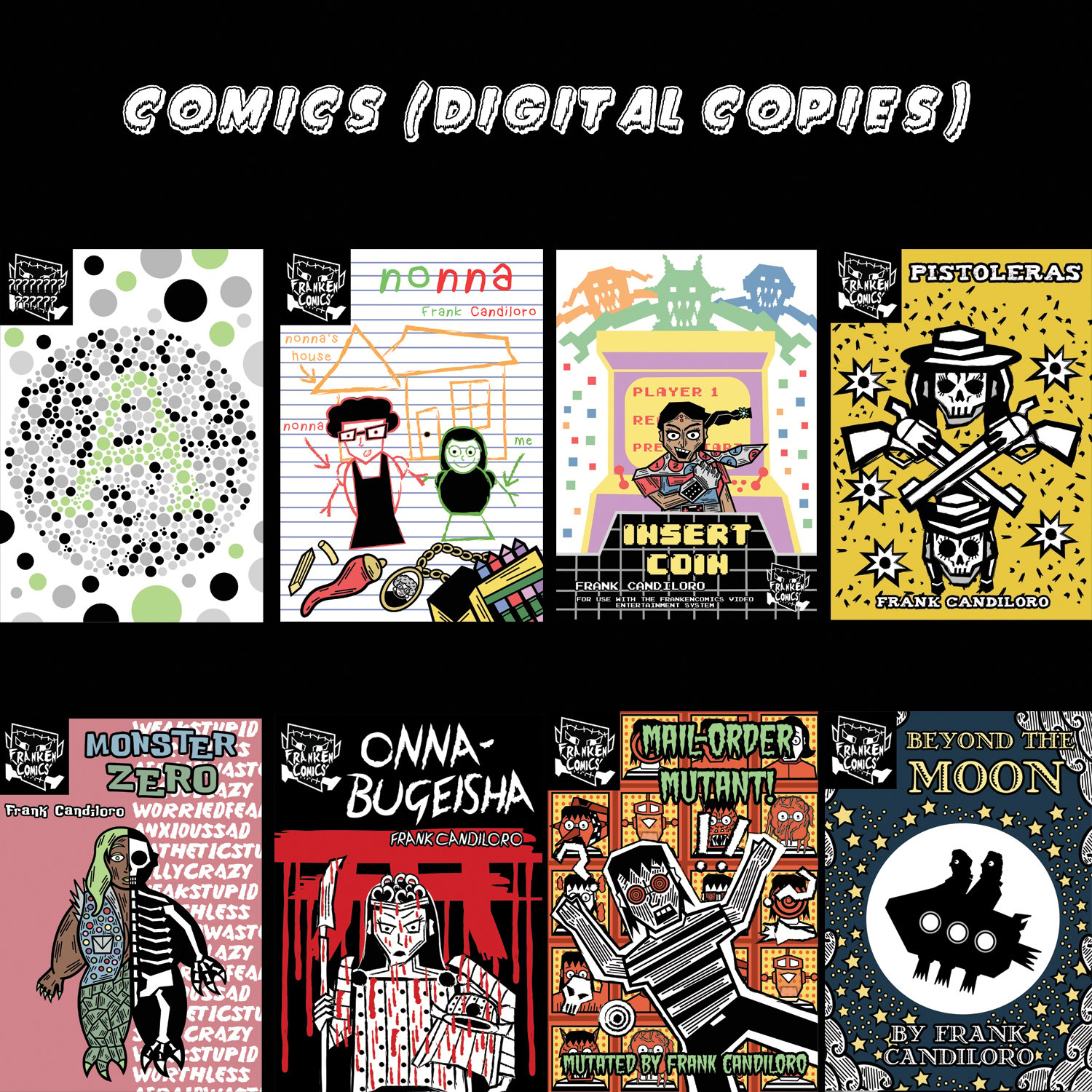 Prefer to go digital? You've come to the right place! FrankenComics are available for digital download in PDF form for just 50c! Please ensure you include your email in the order so the pdf is sent to you. To choose a comic, select one from the drop-down menu at the right of the screen.
More information on the comics:
"Diabel Or: How I Learned To Give In And Embrace The Chaos" - a young stranger who gets kidnapped and is subjected to a horrific sensory deprivation program called "Diabel", and is forced to sit through disturbing imagery until their will is totally destroyed. Full colour, 20 pages. (WARNING: contains graphic violence, torture scenes and frightening images, 18+ only).
"Subterrestrial" - Subterrestrial is about a mysterious explorer who lands on a strange planet, home to various artefacts from another time, as well as housing some curious critters. As they move deeper into the abyss, they make a startling revelation. Full colour, 10 pages.
"Slasher" - Slasher is about Jamie, a depressed teenager who, in a world on fire, does not see the point of living. But when a masked intruder appears at their house, Jamie has to use all of their strength to survive. Black and white, 10 pages. (WARNING: Contains references/depictions of suicide, depression and self-harm.).
"From Norway To Northcote" - After encountering a wormhole in space, a wounded viking warrior from 1500s Norway accidentally gets sent to the northern suburbs of Melbourne in the present day. On her last breath, she wanders around her surroundings in search of meaning and a way to return to her motherland. Black and white, 8 pages.
"The Black Cat" - The Black Cat is about a young disabled artist, Raecl, and their struggles to fit into the art world. One night, they discover a small comic studio, and finds a place to create art. Unfortunately, they are soon interrupted by a group of angry artists who take offence to Raecl's presence in the studio, resulting in Raecl and their art being attacked. Black and white, 15 pages. (WARNING: Contains references to ableism and bullying/harassment.).
"Hell Broke Luce" - Luce feels like everyone is cooler than them. To the point where they wish fervently that they were someone else, anyone else. They will soon learn however, that perception is everything and things may not be as gloomy as they appear. Full colour, 10 pages.
"Worse Things" - Set in the 1950s to a famous tune from a John Travolta musical, two gang members end up falling for each other in a brief love affair that seems doomed to fail from the beginning. Black and white, 5 pages.
"Medicine Cabinet" - Nominated for Best Comic in the 2017 Ledger Awards. What makes up gender? How do you properly express it? Is there a universal mode of expression that is associated with every gender? This comic aims to explore that. Full colour, A6, 20 pages.
"A." - A. metaphorically details the life of an agender person, and the process they go through in discovering who they are and where they belong in the world. Colour, 20 pages.
"We Came To Kill" - Join Emily, writer of Metal Health magazine, as they interview the four members of Hateful Witch - Lucretia (Bass), Melissa (Drums), Kaminari (Guitar) and Iwa (Vocals) as they reminisce about starting as a glam metal band in 1980s L.A., before moving to San Francisco to make a new start in the thrash metal scene there. Black and white, 55 pages.
"Black" - A dark journey into the abyss of the unknown, you'll struggle to make sense of all the darkness. Full colour, 10 pages.
"Nonna" - Nonna tells the story of a young Italian-Australian girl, Gia, growing up in the Melbourne suburbs of Brunswick. She loves spending time with her nonna, who takes her to various places in Brunswick, as well as sharing stories, past-times and recipes with her. Black and white, 20 pages.
"Insert Coin" - Insert Coin follows the life of a young gamer, Jayita, growing up with video and arcade games, playing any game she could get her hands on. She soon discovers however, that not all parts of the gaming world are particularly friendly, especially on the Internet. Full colour, 20 pages.
"9779" - Nominated for Best Comic at the 2016 Ledger Awards. The lives of an African American woman in the 70s and her daughter in the 90s are juxtaposed against each other, their downfalls pitted against their successes. Full colour, 10 pages.
"Pistoleras" - Nominated for Best Comic in the 2015 Ledger Awards. Take a trip back to the era of the western as you follow the adventures of the Pistolera sisters, Adelita and Ramona. These two hard as nails gunslingers hunt down bandits, rob them of their gold and donate it to the orphanage that they grew up in. But there is more to their relationship than meets the eye. Black and white, 40 pages.
"Mary" - Mary is a young girl who has seen her share of tragedy and misfortune. Indeed, Death has followed her since the day she was born, lurking just around the corner. In response, she channels her energy into her main passion: writing. Black and white, 7 pages.
"Monster Zero" - WINNER OF THE 2015 BRONZE LEDGER AWARD. Monster Zero is the story of Artema, who in the world of giant monsters stands out as a truly unique creature. Unfortunately, there are those who don't appreciate her finer qualities and seek to make life hell for her. Full colour, 30 pages.
"Onna-bugeisha" - Nominated for Best Comic in the 2015 Ledger Awards. It focuses around Tomiko, a samurai mentored by her mother Ginchiyo, who is also head of the Makato clan. When a rogue clan member, Sagi, slays Ginchiyo, a distraught Tomiko decides to leave behind her days as a warrior behind her. Black and white, 100 pages.
"Mail-Order Mutant" - Mail-Order Mutant! is the story of Theo Gorgo, a young whippersnapper obsessed with horror and sci-fi comics and a member of the teenage gang The Gorgos, led by his older sister Tina. Upon encountering a nuclear missile, Theo is caught in the explosion, and ends up with various powers and abilities, all based on things he read in the funny books. Black and white, 30 pages.
"Beyond The Moon" - Beyond The Moon is dedicated to the wonders of early cinema and music, and how the two of them combine to become magic. Two young girls, one without sight, the other without hearing, stumble into each other, discovering that they share a mutual pact through the things they've loved and lost. Full colour, 50 pages.